Shooting Range Complete - POLYGON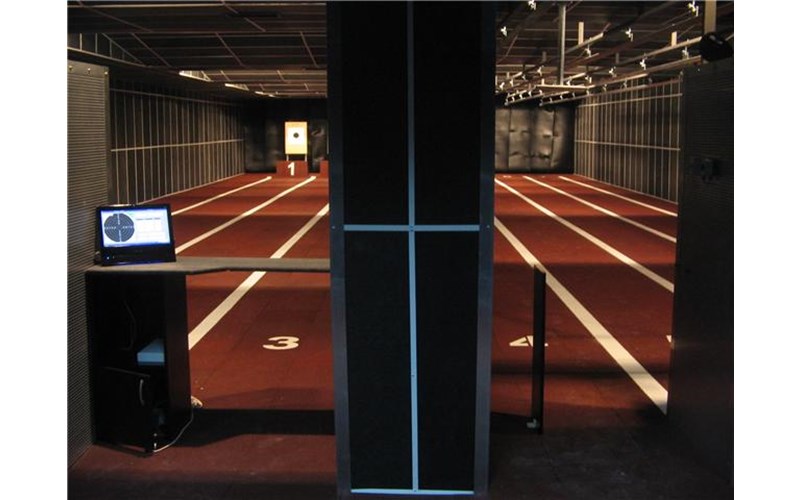 Walls and Ceilings
Mounted with aluminum panels with a special insulating material that is capable of sound damping and tab retention
is done. If desired, the damaged parts can be replaced with new parts.
Floor
Self-leaving screed (10cm) 50x50x5 cm compressed rubber plates are laid, 6 layers of epoxy coating on
It is made. The projectile tabs are intended to be minimized. Damaged area cost if required
replaceable.
Air Ventilation
Different points depending on the size of the polygon for quick and easy removal of the lead vapor deposited on the ground with gunpowder gas accumulated during the shooting.
suction and blowing. The air in the polygon is intended to change at least 26 times per hour.
Fire Alarm Systems
Equipped with smoke and gas sensors, the entire firing area, alarm barriers, emergency exit doors and fire at certain points
extinguishing cabinets and devices are made with address detection fire detection and extinguishing devices.
Bullet Trap and Armor
10 mm thick armor steel which is not deformed even with rifle cartridge in armor and bullet traps
It is used. With the special design, it is made impossible for the projectile to bounce backwards or left-right.
Shooter Counter
Shooting Target Systems
Air Shooting
Laser Shooting
Fixed Target
Moving Target
Interactive Shooting
Lighting
All luminaires used have exproof feature. The amount of lighting complies with international standards.
Fire Control Room and Camera Recording System
a. A safe area is created by the front wall reinforced with bullet-proof glass and steel sheets.
b. With the wireless headphones, the shooting manager has the opportunity to have one-on-one meetings with all shooters at the same time or with any shooter.
is designed to have.
c. Shooting manager, with the sound broadcast system with shooters, shooter preparation line on the top floor and after-maintenance line with
are designed to be able to contact.
d. Thanks to the front and rear cameras, zooming to the desired point or the entire shooting area
image records can be taken by viewing all the shot.
to. With a special program installed on the host computer, safety and control of electrical systems
It is made. It is formed in a locked warehouse with the materials to be used.